Directory

Affiliations






Silicon Valley Sports Medicine

You don't need to be a professional athlete to benefit from the positive aspects of physical activity! We are a total healthcare solution focused on Family Medicine and Sports Medicine. We are happy to take care of all of your primary care needs and we also have on-site Orthopedics, Physical Therapy and X-ray all under one roof.

Latest News
The holidays are nearly upon us!
Please plan accordingly as the office will be closed November 24th & 25th as well as December 26. We will also close early on December 16th to celebrate the season with the staff.
» We wish you all a happy and safe holiday season!
New Team Member
We are pleased to announce the addition of our newest team member, Amanda Schmitz, PA-C. Amanda will allow us to continue to accept new patients as well as to add additional appointment slots for our current patients.
» Amanda Schmitz, PA-C
Accepting new patients
We are happily accepting new patients for both ongoing comprehensive primary healthcare as well as sports injuries . Get started by signing up via our Patient Portal today:
» New patient info or 🔒 Patient Portal login
Looking to pay online?
Payments can now be made online - through our fully HIPPA compliant Patient Portal. Login Here:
🔒 Patient Portal Login.

This implementation is developed by our electronic medical records (EMR) provider to protect the privacy and security of health information beyond a standard website.
» More info
Total Health™ Program
We offer a concierge medicine program called Total Health™. This program focuses on prevention, wellness and improved physical fitness utilizing state of the art tests to define your baseline and monitor your progress throughout the year.
» More info
Smartphone App Now Available
Our Patient Portal solution includes complete mobile access through the healow Mobile App. Just like the Patient Portal, healow allows patients to communicate with our practice easily, safely, and securely over the web.
» healow Mobile App info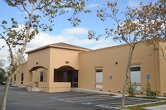 Our Location
221 E. Hacienda Ave, Ste. B
Campbell, CA 95008
» View map
Phone:

(408) 376-3350
FAX:

(408) 374-4130
Billing:

(408) 624-9221
Office Hours
Mon

8:30 am-12, 1:30-5 pm
Tue

8:30 am-12, 1:30-5 pm
Wed

8:30 am-12, 1:30-5 pm
Thu

8:30 am-12, 1:30-5 pm
Fri

8:30 am-11:30, 1-4 pm